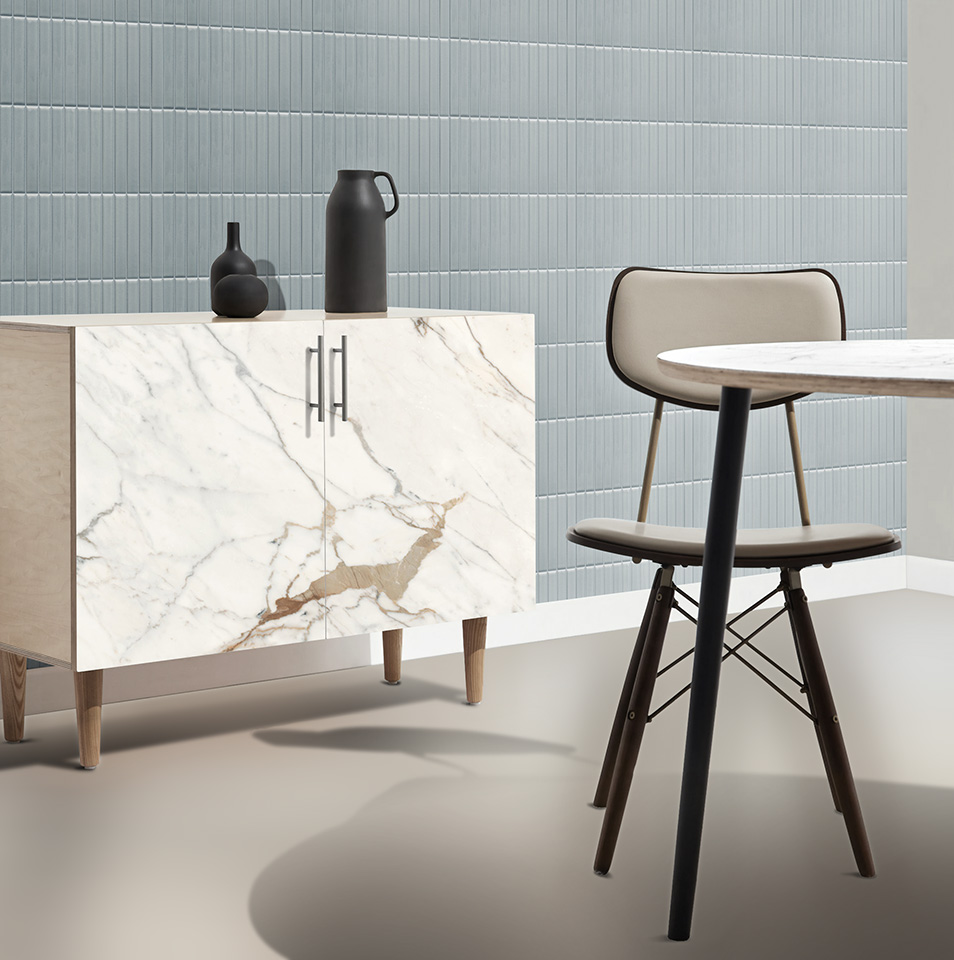 Stick mosaics with both classic and contemporary colors, perfect for floor and wall installations.
To preview product images, make a selection from each available option.
Always confirm current lead times with your TXD Representative.
Need samples, pricing, or have questions about this collection?
Send a Message
Please log in or create an account to submit your inquiry.
STICK
Terratinta Ceramiche presents the brand new Stick collection, the debut in kitkat mosaics. Consistent with the warm minimalism that distinguishes our creations, Stick develops a range of 27 striking colours and two finishes: matt and glossy. Proposed in 29x30cm (11,4"x12") sheets, Stick proves to be a collection with very ductile uses. It lends itself to both vertical and horizontal laying, just as it can be used for wall and floor coverings. The added value? The use of the colour of the joint, which can be chosen tone on tone or in contrast, to create distinctive looks.
STICK MOSAIC | matte finish
A mosaic made of precious 2×14,5cm (1"x6") strips on 29x30cm (11,4"x12") sheets, full body porcelain mosaic, high level and green technology made in Italy, suitable for floors and walls. Available in a minimalist matt finish, in 15 contemporary colors which are the perfect interpretation of the latest design trends and in 12 colors in the very new glossy finish.
STICK MOSAIC | glossy finish
Like a flow of soft icing, the crystalline enriches the surface of Stick Glossy, making the range of 12 new colours richer and more vibrant. The glazed porcelain stoneware sticks can be laid either vertically or horizontally, playing with light and shades.
| | |
| --- | --- |
| Color | Lemon Sorbet (matte), Rosy Blush (matte), Dutch White (matte), Wild Sage (matte), Laurel Green (matte), Green Echo (matte), Azure Mist (matte), Cadet Blue (matte), Aegean Blue (matte), Ocean Wave (matte), Deep Navy (matte), Cherry Pie (matte), Rusty Red (matte), Yellow Corn (matte), Black Swan (matte), Dover White (glossy), Blue Lagoon (glossy), Fjord Blue (glossy), Imperial Blue (glossy), Dark Denim (glossy), Canyon Beige (glossy), Dreamy Pink (glossy), Red Poppy (glossy), Willow Green (glossy), Lichen Green (glossy), Soft Brown (glossy), Liquorice (glossy) |
| Finish | |
| Format | |
| Material | |
| Size | |
| Surface | |
| Thickness | |
| Application | |
| Availability | |